Welcome to this month's Science in Fiction feature! Science in Fiction is a meme I created to showcase the wonderful aspects of science in Young Adult fiction novels. For more information and previous feature, check out the "
Science in Fiction
" tag!
This month, I'm featuring Unearthed by Amie Kaufman and Meagan Spooner!
As soon as I saw Unearthed, I knew it would be a future Science in Fiction feature. But what would the topic be? I'm excited about how many topics I could have drawn from this book. One thing that stuck out is the condition of Earth that the authors have illustrated - basically it's a disaster, with how badly climate change has affected the planet. Our protagonists are currently on a different planet - Gaia - as are other humans, trying to find artifacts and important items for research (and the black market). But back on Earth, deserts have swept the planet, sandstorms are numerous and deadly, and resources are scarce enough that a one-child policy is implemented everywhere.
So today, I'm going to talk about the extreme weather events, due to climate change!
I'm sure everyone is familiar with the latest incredible storm - the bomb cyclone that hit the northeast USA? Some people (like the stable genius in D.C.) think that the bomb cyclone is evidence to deny climate change. Stable genius is... not a genius. I'll explain why this assumption is wrong, and why extreme weather events - regardless of temperature - are evidence of climate change.
But first, a little bit of information about the bomb cyclone, since I've brought it up. A "bomb cyclone" is basically a sharp and quick drop in pressure, which makes the storm much more intense. Specifically, air pressure must drop at least 24 millibars in 24 hours (which is really, really fast for that amount of pressure). This latest bomb cyclone was characterized by biting cold, heavy snowfall, thick ice, and really gusty winds.
The thing about climate change is that rising surface temperatures affects sea levels, and jet streams, and atmospheric circulation patterns, and all of those things affect weather patterns. In the last half-century, we've seen a rise of extreme weather events. Hot months are even hotter, cold months are even colder, more snow in states that get a lot of snow, more intense heat in places that experience high temperatures. More snowfall isn't evidence of the nonexistence of climate change - it's huge evidence in favor of the existence of climate change. Melting Arctic ice weakens jet streams, which changes the circulation pattern of the jet streams and brings colder air from the poles further south. Hence why states like Florida have seen snow for the first time in decades, in the last week. Check Environmental Defense Fund or National Climate Assessment for some science-y evidence.
National Climate Assessment has this graph of the frequency of extreme precipitation events in the USA over the last century. The writing is clearly on the wall!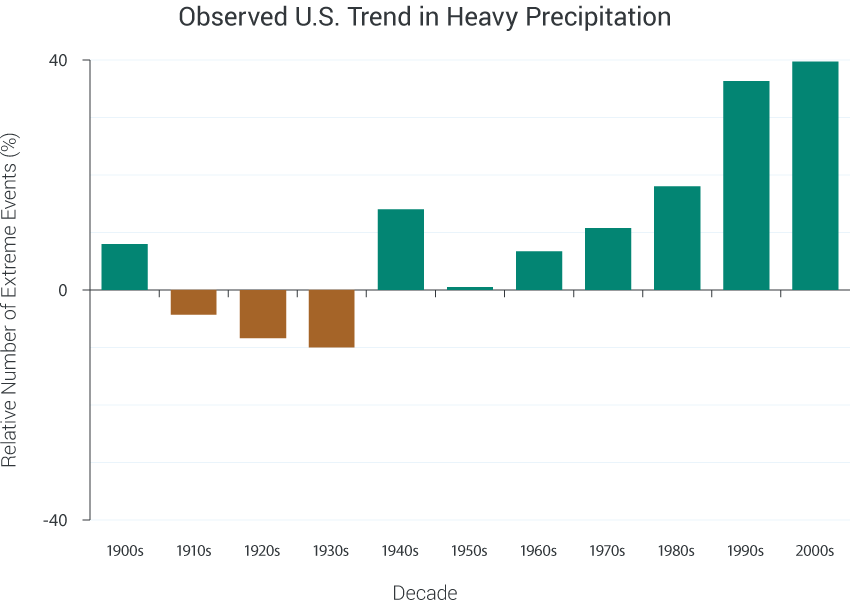 Source:
NCA
. (NCA has adapted from Kunkel et al. 2013).
NOAA has a really great image of the bomb cyclone storm event that hit the USA on January 4th:
Source:
PRI
. (Image is from NOAA.)
What other types of weather changes can we expect to see?
- Extreme snow events (in areas that receive snow).
- Higher "high" temperatures during summer months.
- Record year-end high temperatures and record year-end low temperatures.
- Flash flooding in urban areas.
- Stronger hurricanes (in areas that experience hurricanes).
More extreme weather events are listed
HERE
.
I've talked about terraforming and other space-related topics in which humans go in search of other planets for survival. I have no doubt that scientists are looking and hoping to discover new forms of life, with one goal being to find somewhere to inhabit in addition to Earth. Our planet has been changing and not for the better. I urge readers to educate yourself on climate change and understand why it is very real and very much something we should all be thinking about.
Let me know what your thoughts are, on climate change and extreme weather events!