Hello and happy Monday, fellow book lovers! Today is the first day of the second leg of the blog tour for the The Dark Days Club series. I've put together a mood board inspired by the series. If you missed my content from the previous leg of the tour, you can find it HERE!
My Mood Board:
About Book One: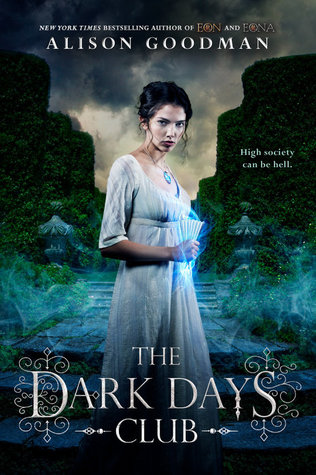 The Dark Days Club by Alison Goodman
Book One of The Dark Days Club series
Publisher: Viking Books for Young Readers
Publication Date: January 26, 2016
Summary (from Goodreads):
From the New York Times bestselling author of Eon and Eona; a Regency adventure series starring a stylish and intrepid Buffy-esque demon-hunter
London, April 1812. On the eve of eighteen-year-old Lady Helen Wrexhall's presentation to the queen, one of her family's housemaids disappears-and Helen is drawn into the shadows of Regency London. There, she meets Lord Carlston, one of the few who can stop the perpetrators: a cabal of demons infiltrating every level of society. Dare she ask for his help, when his reputation is almost as black as his lingering eyes? And will her intelligence and headstrong curiosity wind up leading them into a death trap?
Goodreads | Amazon | B&N | The Book Depository | The Ivy Bookshop
About Book Two:
The Dark Days Pact by Alison Goodman
Book Two of The Dark Days Club series
Publisher: Viking Books for Young Readers
Publication Date: January 31, 2017
Summary (from Goodreads):
June 1812. Just weeks after her catastrophic coming-out ball, Lady Helen Wrexhall—now disowned by her uncle—is a full member of the demon-hunting Dark Days Club. Her mentor, Lord Carlston, has arranged for Helen and her maid, Darby, to spend the summer season in Bristol, where Helen can sharpen her Reclaimer powers. Then the long-term effects of Carlston's Reclaimer work take hold, and his sanity begins to slip. At the same time, Carlston's Dark Days Club colleague and nemesis will stop at nothing to bring Helen over to his side—and the Duke of Selburn is determined to marry her. The stakes are ever higher for Helen, and her decision will truly change the world…
The Dark Days Deceit by Alison Goodman
Book Three of The Dark Days Club series
Publisher: Viking Books for Young Readers
Publication Date: November 20, 2018
Summary (from Goodreads):
The thrilling, genre-bending conclusion to Lady Helen's demon-hunting adventures, set in the glittering Regency world.
Lady Helen has retreated to a country estate outside Bath to prepare for her wedding to the Duke of Selburn, yet she knows she has unfinished business to complete. She and the dangerously charismatic Lord Carlston have learned they are a dyad, bonded in blood, and only they are strong enough to defeat the Grand Deceiver, who threatens to throw mankind into chaos. But the heinous death-soaked Ligatus Helen has absorbed is tearing a rift in her mind. Its power, if unleashed, will annihilate both Helen and Carlston unless they can find a way to harness its ghastly force and defeat their enemy.
In the final book of the trilogy that began with The Dark Days Club and continued with The Dark Days Pact, the intrepid Lady Helen's story hurtles to a shocking conclusion full of action, heartbreak, and betrayal.
Alison Goodman writes in a variety of genres, ranging from the genre-bending DARK DAYS CLUB titles, to the EON/EONA fantasy duology, to the YA science fiction thriller SINGING THE DOGSTAR BLUES. She was a D.J. O'Hearn Memorial Fellow at Melbourne Universtiy, holds a master of arts degree, and mentors emerging writers. A long-time lover of the Regency period, she has a treasure trove of material to be viewed at pinterest.com/alisongoodman. She is online at darkdaysclub.com and on Twitter @AlisonGoodman.

Follow week two of the tour!