Happy Monday! I am SO excited to share a new giveaway with you all! I've partnered with Tor Teen to make this possible. Tor Teen has offered to send one USA winner a copy of Truthwitch, Windwitch, and Sightwitch. Enter below!
I adore this series and encourage everyone to check it out. I'll be sharing pictures of my Witchlands collection on Instagram shortly!
About Truthwitch:
Truthwitch by Susan Dennard
Book One of The Witchlands series
Publication Date: January 5, 2016
On a continent ruled by three empires, some are born with a "witchery", a magical skill that sets them apart from others.
In the Witchlands, there are almost as many types of magic as there are ways to get in trouble—as two desperate young women know all too well.
Safiya is a Truthwitch, able to discern truth from lie. It's a powerful magic that many would kill to have on their side, especially amongst the nobility to which Safi was born. So Safi must keep her gift hidden, lest she be used as a pawn in the struggle between empires.
Iseult, a Threadwitch, can see the invisible ties that bind and entangle the lives around her—but she cannot see the bonds that touch her own heart. Her unlikely friendship with Safi has taken her from life as an outcast into one of reckless adventure, where she is a cool, wary balance to Safi's hotheaded impulsiveness.
Safi and Iseult just want to be free to live their own lives, but war is coming to the Witchlands. With the help of the cunning Prince Merik (a Windwitch and ship's captain) and the hindrance of a Bloodwitch bent on revenge, the friends must fight emperors, princes, and mercenaries alike, who will stop at nothing to get their hands on a Truthwitch.
About Windwitch:
Windwitch by Susan Dennard
Book Two of The Witchlands series
Publication Date: January 10, 2017
The second novel in the New York Times bestselling Witchlands series, now available in trade paperback, an epic fantasy adventure hailed by Alexandra Bracken as "a world you will want to inhabit forever."
Sometimes our enemies are also our only allies…
After an explosion destroys his ship, the world believes Prince Merik, Windwitch, is dead. Scarred yet alive, Merik is determined to prove his sister's treachery. Upon reaching the royal capital, crowded with refugees, he haunts the streets, fighting for the weak—which leads to whispers of a disfigured demigod, the Fury, who brings justice to the oppressed.
When the Bloodwitch Aeduan discovers a bounty on Iseult, he makes sure to be the first to find her—yet in a surprise twist, Iseult offers him a deal. She will return money stolen from him, if he locates Safi. Now they must work together to cross the Witchlands, while constantly wondering, who will betray whom first?
After a surprise attack and shipwreck, Safi and the Empress of Marstok barely escape with their lives. Alone in a land of pirates, every moment balances on a knife's edge—especially when the pirates' next move could unleash war upon the Witchlands.
About Sightwitch:
Sightwitch by Susan Dennard
Book 0.5 of the Witchlands series
Publication Date: February 13, 2018
Summary (from Goodreads):
Set a year before Truthwitch, Sightwitch follows Ryber Fortiza, the last Sightwitch Sister as she treks deep underground to rescue her missing best friend. While there, she encounters a young Nubrevnan named Kullen Ikray, who has no memory of who he is or how he wound up inside the mountain. As the two journey ever deeper in search of answers, and as they brave one close call after another, a tentative friendship forms between them—one that might one day grow into something more.
Sightwitch is told through Ryber's journal entries and her sketches, as well as through supplementary materials (such as other journals, pieces of songs, clippings from history books, flashbacks, etc.). Though meant as a companion novella, this story serves as a set up to Bloodwitch as well as an expansion of the world.
Next up is Bloodwitch!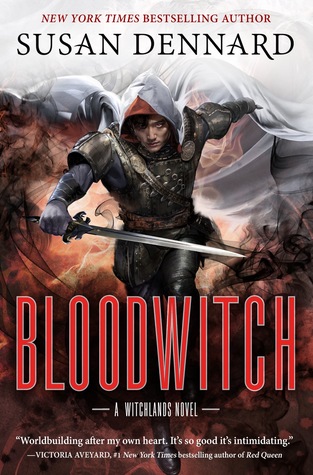 (Click on the cover to go to Goodreads!)
Check out the series map!
SUSAN DENNARD is the author of the New York Times bestselling Witchlands series as well as the Something Strange and Deadly series. She has come a long way from small-town Georgia. Working in marine biology, she got to travel the world—six out of seven continents (she'll get to Asia one of these days!)—before she settled down as a full-time novelist and writing instructor. When not writing, she can be found hiking with her dogs, slaying darkspawn on her Xbox, or earning bruises at the dojo.
Catch up on the Witchlands Series! One (1) winner receives:
Book #1: Truthwitch
Book #2: Windwitch
Prequel novel: Sightwitch
Giveaway open to US addresses only.
Prizing and samples provided by Tor Teen.