Welcome to this month's Science in Fiction feature! Science in Fiction is a meme I created to showcase the wonderful aspects of science in Young Adult fiction novels. For more information and previous feature, check out the "Science in Fiction" tag!
This month, I'm not featuring a specific book - I'm featuring Earth Day!
Today (April 22nd) is Earth Day. Earth Day was started in 1970, and it's April 22nd every year. It just so happens to fall on a Sunday this year, which is perfect for this month's Science in Fiction post.
This year's Earth Day has a special focus - ending plastic pollution by 2020. Plastic pollution is something I've talked about before, featuring different YA books. Last month, I featured Pacifica by Kristen Simmons, and I talked about trash islands in the ocean. Like the Great Garbage Patch:
Did you know that there is an estimated 150 million metric tons of plastic in our oceans today? 300 million tons of plastic is produced every year. And think about this - it takes roughly 20 years for a plastic bag to decompose. It takes about 450 years for a plastic bottle (the kind you buy in cases at the grocery store) to decompose. So if I throw a disposable plastic bottle in the Chesapeake Bay right now, it'll decompose in the year 2468. And what it decomposes to (little tiny filaments of plastic) isn't great either.
Check out this graphic from Ocean Conservancy: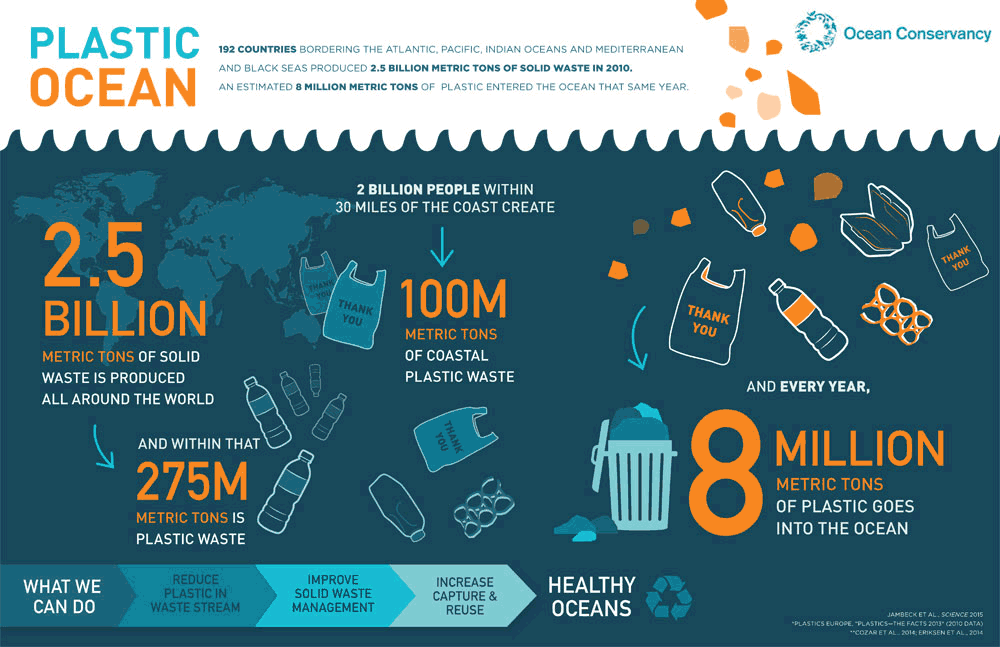 Source:
Ocean Conservancy
People can say what they want about global climate change (is it real? is it a hoax made up by scientists to get more funding?), though you all know my stance on global climate change. But you can't deny the incredible pollution that is going on, in the oceans, in other bodies of water, in wastelands, underground.
This Earth Day, we should pledge to make small changes in our lives that will have a lasting impact on our planet. Here are some things that you can do:
- Use reusable bags in the grocery and other stores. Use whatever reusable bags you want! They don't need to be ones that you buy at that store. Heck, I walk into Giant (our local grocery) with cloth bags that are from Giant, but also free cloth bags from other grocery stores.
- Use reusable bottles. Stop buying cases of water bottled in plastic. Think about where those bottles end up. Are you placing them for recycling? Are you throwing them in trash?
- Give up bottled drinks altogether. I'd argue that glass bottles are better to use/buy, but in general, bottled drinks are a good thing to stop consuming. It would be incredibly difficult for the average person (myself included).
- STOP USING PLASTIC STRAWS. Plastic straws are terrible! Use reusable ones or just drink from the cup.
- Choose cardboard over plastic. Cardboard is usually easier to recycle than plastic bags and bottles are not.
- Stop using products with microbeads. Like hand soaps, example. We've all seen hand soaps with tiny little beads in them. Those beads do not break down and usually have a component of plastic in them.
- Stop chewing gum. Did you know that gum is made of plastic? Yeah. And then you spit that out, and a bird might get stuck in it.
There are sooooo many other things that you can do, but these tend to be the easiest ones. If demand for certain products go down, then the companies producing them will have to limit supply. Which is fantastic! If we all did a few of the things on the list, we might see a huge difference, in the long run.
And now, the giveaway!
Win the above prize pack, plus some other books that will be a surprise! Open internationally, ends on May 11th. I'll try to announce the winner on my next Science in Fiction post. Giveaway rules apply. Good luck!
a Rafflecopter giveaway