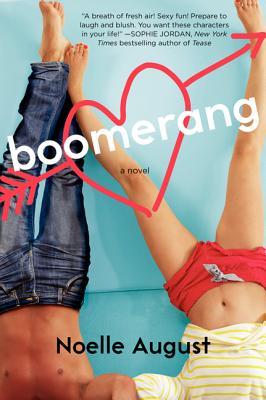 Boomerang by Noelle August
Book One of the Boomerang series
Publisher: William Morrow Paperbacks
Publication Date: July 8, 2014
Source: Copy bought from Amazon
Summary (from Goodreads):
The first book in a sensational New Adult trilogy from Noelle August
Welcome to Boomerang.com, the dating site for the millennial gen with its no-fuss, no-commitments matchups, and where work is steamier than any random hook-up
Mia Galliano is an aspiring filmmaker. Ethan Vance has just played his last game as a collegiate soccer star. They're sharp, hungry for success, and they share a secret.
Last night, Ethan and Mia met at a bar, and, well . . . one thing led to another, which led to them waking up the next morning—together. Things turned awkward in a hurry when they found themselves sharing a post hookup taxi . . . to the same place: Boomerang headquarters.
What began as a powerful connection between them is treated to a cold shower courtesy of two major complications. First, Boomerang has a strict policy against co-worker dating. And second, they're now competitors for only one job at the end of summer.
As their internships come to an end, will they manage to keep their eyes on the future and their hands off each other, or will the pull of attraction put them right back where they started?
It's been a while since I've read a New Adult book - and that was very much on purpose. For the past couple of years, I've been so sick of the age level (New Adult) and its most popular genre (contemporary romance). So NA contemporary romance and I broke up for a while. I decided to give this book a shot because 1) Veronica Rossi is one of the authors - HELLO, LOVE HER, and 2) I'm on the blog tour for Rebound (see my post next week!), so I felt the need to read this one before reading Rebound. While I didn't love this book, I'm glad I gave it a chance (especially before reading Rebound).
This book starts with Mia waking up and finding herself in someone bed, completely nude. She doesn't remember much from that night, just that she was very, very drunk, and she went with a guy home. The guy, Ethan, is in bed as well, also nude, but she can barely remember his name. As they scramble to get ready for their jobs, they take a taxi, not realizing they're going to the same place. To the same internship.
Boomerang is looking to hire one person, and Mia and Ethan will have to compete against each other to "win". They will design a booth for Boomerang, effectively marketing the dating site. Oh, and no fraternization between coworkers. Which leaves Mia and Ethan in an... interesting situation, given how that night before their first day at Boomerang. Is work more important than growing feelings?
I really liked how this book started - with Mia and Ethan waking up after an intimate night. No one knows exactly what happened (did they have sex, did they just mess around, etc.), but it was cute how comfortable with tension-filled the two of them were. The way Mia describes Ethan makes me want my own Ethan to wake up next to... haha.
I liked Ethan a lot. I liked Mia too, but I liked Ethan a lot more. We get both of their first-person point-of-views, which is nice. Ethan is such a sweet guy, but he's always saying stupid things and doing things that can be misinterpreted. He coaches soccer (nine-year-old boys), but he really needs the money that working for Boomerang could offer him. Ethan really likes Mia, but he thinks it was a one-night thing, and he needs the job more than a girl he just met. Right?
Also, he's a soccer player. You know how I feel about soccer players. Mmmm... that physique... but in all seriousness, it's my favorite sport (tied with tennis).
I LOVE how the authors makes certain aspects of a relationship today so REAL. There are several times when Ethan says something to Mia, and doesn't realize how Mia will take his words. The word "nothing" is a really bad word to use with a girl. It was "nothing", it meant "nothing", etc. Like, we could totally understand what Ethan MEANT, but what he said was misinterpreted. This happens all the time in real like, and I love the authenticity. Same goes for things he DID, as well.
This story is pretty quick, light, easy to read, fast-paced. The romance is important, but the story involving Boomerang and the internship is important as well. I wanted more between Ethan and Mia alone, but there are some scenes between them that made me smile. They have a lot of chemistry, but they also care about each other from the start.
The story ends satisfyingly, and of course, there's plenty of room for more novels. Companion novels work well with this series!
Like I said above, I wanted more from just Ethan and Mia. I feel like they're not alone enough, and there isn't enough tension exposed between them. Sure, they think about each other a lot, especially as they slowly recall what happened that first night, but it's not the same as actually being two inches from each other and wanting to jump each others' bones. Hehe.
This is a personal thing, but I didn't like the whole competition thing. I didn't like the idea of the two protagonists competing for something. This story arc doesn't sit well with me. But again, me.
I didn't really like another part of the story that I didn't mention - Boomerang is a dating site (sort of like eHarmony of OK Cupid or something). Naturally, as employees of Boomerang, Ethan and Mia go on experimental dates with other people (for the sake of company research, of course). A me thing, I think, but I didn't really like this plot arc. It's obvious that the authors put this in the story so that the protagonists could feel a good dose of jealousy. But eh. Bot a me thing.
The ending, in terms of the booth, is TOO cookie-cutter perfect. So cliche. I didn't like that particular part. It's so... goody-goody, almost. But that's okay.
This definitely was not the worst New Adult contemporary romance novel I've read (not by far), but it wasn't the best (that might go to Foreplay by Sophie Jordan). It didn't have too many cliches and overused tropes, but I did want see more from the physical side of the romance. But perhaps I would recommend this book. I'll read Rebound and let you know about this series overall.
Rating:
3 stars. Catch my review of Rebound next week, as well as all things blog-tour-related! You'll see if I liked Rebound more than I liked this one...
Was this review helpful? Please let me know in the comments section!