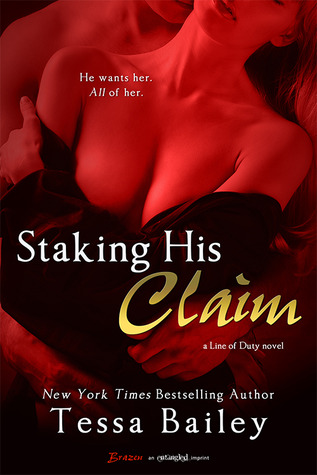 Staking His Claim by Tessa Bailey
Book Five of the Line of Duty series
Publisher: Entangled Brazen
Publication Date: February 3, 2014
Source: Purchased Kindle copy
Summary (from Goodreads):
He wants her. All of her.
NYPD sniper Matt Donovan is in Hell. Instead of driving his best friend's little sister home from college, he's stuck with her roommate—a fresh-faced ray-of-sunshine with a body that makes grown men weep. There's no way he'll allow himself to taint the little vixen, no matter how hard she tries to tempt him, so he resigns himself to the longest—and hardest—drive of his life.
Matt's obvious attraction suits grad student Lucy Mason just fine. She had no idea her brother's best friend was so deliciously hot. Knowing he'd never have his wicked way with his buddy's sister, she lies about her identity and seduces him. But Matt's no fumbling college boy. His desires run deep—and dark—and he wants to teach Lucy what wicked really means.
Matt's demanding appetites only make Lucy want more. But when her cover's blown, he's furious—even as his hunger for her becomes insatiable. Matt can't trust anyone, least of all himself. And he knows all too well that darkness always destroys the light…
I've had this book for a long time but never got the chance to read it. If you're a regular Eater of Books! reader, you've probably noticed that I've slowed down my ARC reading and have been rereading a lot more, lately. I've also been trying to read old backlist books that I bought or received but haven't read. This is one of them. I love Tessa Bailey's books, and this one was no exception.
Matt Donovan is literally the strong, silent, brooding type. He is a man of very few words with a complicated, heartbreaking past. He's a sniper in the NYPD ESU, and former military. When his NYPD partner Brent asks him to pick up his sister and sister's roommate, Matt doesn't expect to be knock on his butt by Brent's gorgeous sister. Except he doesn't know that Lucy is Brent's sister, because she lies and says she's the roommate. One steamy night is in the books before it is revealed to Matt that Lucy is actually Lucy, Brent's sister. He's furious, but he can't stay away...
Matt is one of the most unique alpha heroes I've come across in a long time. You'd think all alpha heroes are the same, especially the strong and brooding types. I like Matt because he's actually a strong, silent, brooding type. He doesn't say much, but when he does, he makes it count. He is a quiet observer, and he notices a lot. He hates being lied to, especially because of something that happened in the past. He is furious with Lucy for lying to him, but at the same time, he is drawn to her like a moth to a flame. Matt has so many layers, from his military past, to his ex-fiancee fiasco, to his dark desires. Matt needed someone exactly like Lucy to shake him up.
Lucy is light to Matt's darkness. She is full of life and energy, but not quite in a manic-pixie-girl way (though kind of). Lucy knew lying to Matt was going to lead to trouble, but she did it anyway. She does what she wants and goes after what she wants. But she loves Matt's dominant, possessive side when it comes to her. Lucy is a sweet, hardworking girl and while I didn't like the fact that she lied to Matt as ridiculously as she did, I quickly forgave her. She's not a bad person.
The two of them have seriously hot chemistry. Whew, this book was hot. Matt has a dominant side that likes control, and Lucy has a caring, submissive side that likes to give up control. This dynamic works really well for them as a pair. I personally like alpha heroes especially when the heroine likes alphas - the dynamic works for them. There were so many ~hot~ scenes in this book; never doubt that Tessa Bailey while write scorching romance novels.
They had to work for it, but there is a lovely HEA at the end of this book. There was a lot of push-and-pull, with Lucy hurting Matt, and Matt hurting Lucy, and back and forth, and in the end I think it was a really good ending. These two are great for each other.
Overall I liked this book a lot. It was hot and steamy, but also sweet and romantic. Maybe a little bit of insta-love, but I liked it. And I liked the Brent/Hayden and Daniel/Story cameos (well, not a ton of Story, but that's okay).
If you like Tessa Bailey's books but haven't read this one, do it! It's super hot. Possibly one of her hottest books. Especially in terms of the dom/sub aspect (it's not really BDSM - the dom/sub terminology isn't used and it's more seen as an alpha/beta type of thing). And the best friend's little sister trope was not annoying at all; usually I don't love the trope, but I thought the reveal to Brent was perfect. Everyone was an adult about things. And hey, there was a HEA. What's not to love?
4 stars. I highly recommend all of the Line of Duty books! I think there might be one that I haven't read but I've read most of them and I love them (especially Officer Off Limits, my first Tessa Bailey book). Do yourself a favor and binge-read the series!
Was this review helpful? Please let me know in the comments section!