Welcome to the blog tour for The Beautiful by Renée Ahdieh! I'm thrilled and honored to be a part of this wonderful promotion! Check out my interview with Renée below - and be sure to come back to my blog on October 4th for a huge giveaway!
Meet Renée!
(I have, in person, twice. She's amazing!)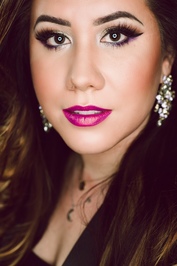 (Image from Goodreads)
Alyssa: Arjun Desai" is an Indian name (represent!). Was there a specific inspiration for the name?
Renée: One of my closest friends from college is originally from Mumbai, and my husband and I have visited him four times since we graduated. His name is not Arjun, but so much of Arjun's character is informed by these amazing experiences we got to share with his family in his world. I chose "Arjun" for this character's names because it means "bright, shining," and I think this word most aptly describes his personality. He is often a light in the darkness.
Alyssa: What was something about Arjun that you struggled to write or come up with?
Renée: Arjun was a character that came to mind almost fully formed, which is such a rare treat for me as a writer. I think it was because I channeled so many of my own experiences with our close friend, as well as understanding what Arjun wanted and needed early on in the story.
Alyssa: What is a quality or trait or Arjun that you also share?
Renée: This is a bit of a spoiler for later, as it's not immediately apparent in The Beautiful, but Arjun loves to cook. He's also a vegetarian, and his passion for the cuisine of his country will become much more obvious in subsequent books.
Alyssa: What is one message or truth that Arjun would want everyone to know?
Renée: Arjun is a character with a lot of anger in his family, and it taught him at an early age how destructive anger can be, especially with those to whom you are closest.
Alyssa: What would Arjun's favorite Bollywood movie be?
Renée: Arjun is both a softie and a lover of good comedy, so either "Devdas" or "Dostana"! But he also enjoys a good cricket match, so perhaps even "Lagaan"? There are too many to choose from!
Alyssa: Excellent choices. Thanks so much, Renée! I'll see you in D.C. in a few weeks!
Renée Ahdieh is the author of the #1 New York Times bestselling The Wrath and the Dawn and The Rose and the Dagger. In her spare time, she likes to dance salsa and collect shoes. She is passionate about all kinds of curry, rescue dogs, and college basketball. The first few years of her life were spent in a high-rise in South Korea; consequently, Renée enjoys having her head in the clouds. She lives in Charlotte, North Carolina, with her husband and their tiny overlord of a dog.
The Beautiful by Renée Ahdieh
Book One of The Beautiful series
Publisher: G.P. Putnam's Sons Books for Young Readers
Publication Date: October 8, 2019
Summary (from Goodreads):
New York Times bestselling author Renée Ahdieh returns with a sumptuous, sultry and romantic new series set in 19th century New Orleans where vampires hide in plain sight.
In 1872, New Orleans is a city ruled by the dead. But to seventeen-year-old Celine Rousseau, New Orleans provides her a refuge after she's forced to flee her life as a dressmaker in Paris. Taken in by the sisters of the Ursuline convent along with six other girls, Celine quickly becomes enamored with the vibrant city from the music to the food to the soirées and—especially—to the danger. She soon becomes embroiled in the city's glitzy underworld, known as La Cour des Lions, after catching the eye of the group's leader, the enigmatic Sébastien Saint Germain. When the body of one of the girls from the convent is found in the lair of La Cour des Lions, Celine battles her attraction to him and suspicions about Sébastien's guilt along with the shame of her own horrible secret.
When more bodies are discovered, each crime more gruesome than the last, Celine and New Orleans become gripped by the terror of a serial killer on the loose—one Celine is sure has set her in his sights . . . and who may even be the young man who has stolen her heart. As the murders continue to go unsolved, Celine takes matters into her own hands and soon uncovers something even more shocking: an age-old feud from the darkest creatures of the underworld reveals a truth about Celine she always suspected simmered just beneath the surface.
At once a sultry romance and a thrilling murder mystery, master storyteller Renée Ahdieh embarks on her most potent fantasy series yet: The Beautiful.
Are you excited about Renée's new book? How about vampires making a comeback? What is something you hope to see Renée write in the future?