Happy Monday, book lovers! Today I'm posting REVIEWS! It has certainly been a while since I've reviewed anything. That being said, I'm writing three reviews in this post, so they're going to be shorter than my norm. The good thing is, I loved all of these books and could gush for days!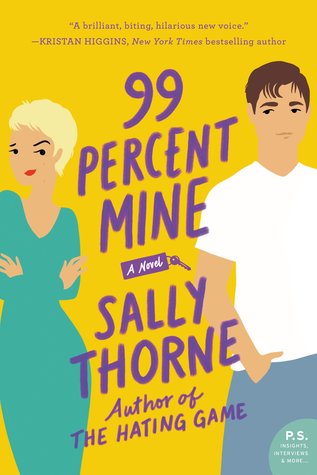 99 Percent Mine by Sally Thorne
Publisher: William Morrow Paperbacks
Publication Date: January 29, 2019
Source: eARC from Edelweiss
Summary (from Goodreads):
Crush: a strong and often short-lived infatuation, particularly for someone beyond your reach…

Darcy Barrett has undertaken a global survey of men. She's travelled the world, and can categorically say that no one measures up to Tom Valeska, whose only flaw is that Darcy's twin brother Jamie saw him first and claimed him forever as his best friend. Despite Darcy's best efforts, Tom's off limits and loyal to her brother, 99%. That's the problem with finding her dream man at age eight and peaking in her photography career at age twenty—ever since, she's had to learn to settle for good enough.
When Darcy and Jamie inherit a tumble-down cottage from their grandmother, they're left with strict instructions to bring it back to its former glory and sell the property. Darcy plans to be in an aisle seat halfway across the ocean as soon as the renovations start, but before she can cut and run, she finds a familiar face on her porch: house-flipper extraordinaire Tom's arrived, he's bearing power tools, and he's single for the first time in almost a decade.
Suddenly Darcy's considering sticking around to make sure her twin doesn't ruin the cottage's inherent magic with his penchant for grey and chrome. She's definitely not staying because of her new business partner's tight t-shirts, or that perfect face that's inspiring her to pick up her camera again. Soon sparks are flying—and it's not the faulty wiring. It turns out one percent of Tom's heart might not be enough for Darcy anymore. This time around, she's switching things up. She's going to make Tom Valeska 99 percent hers.
I really enjoyed this book! It was my first read by Sally Thorne - I still haven't read The Hating Game - and I liked it a lot. I thought I wouldn't like Darcy because I'd heard from other bloggers and reviewers that she was not easy to like. But I adored her! She's prickly and tough, sometimes blunt and rude, but very much "real" and very strong. She's probably classified as an unlikable heroine, though I could be wrong. But I liked her. She had hard edges and many imperfections, but she was very honest and straightforward, even when she was hiding vulnerabilities. I also wasn't sure if I'd like this best-friends-turned-lovers story, because there seemed to be a good deal of emotional baggage involved in this friendship, but I enjoyed the progression of the romance! Tom is very dreamy, and very much a good idea. He and Darcy are complete opposites, but they work well as a pair. The progression of the romance is fairly slow, but very sizzling. I read this one very quickly, on a 2+ hour flight to Florida. It was enjoyable, funny, sweet, angsty, and it had a great HEA. I highly recommend the book to readers of adult contemporary romance, and you best believe I will be reading The Hating Game! (It's unrelated to this book, and published several years ago.)
Was this review helpful? Please let me know in the comments section!
Pan by Gina L. Maxwell
Book One of the Neverland series
Publication: January 22, 2019
Source: eARC sent by the author
Summary (from Goodreads):
From NYT and USA Today bestselling author, Gina L. Maxwell, comes a brand new series with a fresh twist on an old classic.
Once upon a time, in Neverland, North Carolina--I fell in love.
I was twelve when Peter first climbed up to my balcony.
Thirteen when I sneaked out to see him at the School for Lost Boys.
Seventeen when his touch made me fly,
And eighteen when his words made me cry.
We were magnetic, drawn to each other from that very first night, and what I thought would be forever. But when it came time for me to leave, he wouldn't come with, so I left town with a map for my future and a shattered heart.
Ten years later, I've returned to Neverland, hoping to find a man in place of the boy.
Peter was partially right, growing up is no fun. After quitting my fancy career that sucked the magic out of life, I'm now organizing the fundraiser of the year. In a move that could make or break the event and my new company, I've hired Peter, master mechanic and owner of LB Automotive, to help me pull this off--trusting him to rebuild a classic car for the auction that could help hundreds of foster kids in need.
I thought I was prepared, but the boy who refused to leave is now a man hell-bent on getting me to stay, and as sparks fly between us, that undeniable fire flares back to life, deeper and hotter than ever.
But that ripped body doesn't mean Peter's matured enough to make us or this event work, and not everyone in Neverland is happy about my return.
Not every wound heals.
Not every heart can be fixed.
Not every boy grows up.
And after all this time, the love we found might be lost to us again...this time, forever.
My Review:
I've never read or watched Peter Pan, but I know of the story vaguely, so I was pretty excited to hear about this modern-day contemporary romance retelling of the story. I've read books by Gina L. Maxwell and I've enjoyed them - always steamy, heartwarming, and fun. Did I mention steamy? This book was NO different. Peter and Wendy were scorching together! Usually I'm not big on second-chance romances, but I liked this one a lot. They had some really great chemistry and no heavy baggage between them. This was a fun and sweet second-chance romance to follow. Peter is a hard, tough guy with a soft heart, and Wendy is a soft, sweet girl with a strong heart. They are such a cute pair - you all know how much of a sucker I am for the "bad-boy-and-innocent-girl" trope. (Yes, I know, I am so outdated with that trope.) I don't know the specifics of Peter Pan but the parallels are very clear, from the supporting cast (Tink! Captain Hook! Lost Boys!) to parts of the plot. This book was so much fun to read, and very steamy. It's a M/F romance. I highly recommend it! This was my read on a 2+ hour flight and the pages zipped by!
Was this review helpful? Please let me know in the comments section!
Team Player by Julianna Keyes
Book One of the Charleston Thrashers series
Publication: March 28, 2019
Source: eARC from NetGalley
Summary (from Goodreads):
Don't hate the player…
Gwen Scott wants to love her job with the Charleston Thrashers, the MLB team she's worshiped since she was a kid, but she can't. Hateful colleagues and mind-numbing work make her days unbearable—until her head for baseball gets her exclusive access to the Thrashers' clubhouse and she comes face-to-face with Tyler Ashe, the team's sexy shortstop and baseball's most ineligible bachelor.
Ty has sworn off relationships in order to focus on his all-star career, but with his best friend gone, his team struggling, and the press blaming him for every loss, the most recognizable man in the majors is in a slump. Until he starts spending his time off the field with a stern blonde who recites baseball stats for kicks and sees through his arrogant façade.
As the Thrashers' season gets into full swing and Gwen adjusts to her new job, their fun banter and friendly teasing turns into stolen kisses and countless steamy nights. The team's strict policy against player-staff relationships throws a curve ball into the mix, but they can't hide from their feelings any more than the most famous man in baseball can hide from the spotlight…
This was the first book I read in about two months. 2019 has been off to a rough start for me for personal reasons, so I haven't been feeling like reading. I had no idea that Julianna Keyes had written and was publishing a new book, so when I saw promo for this book, I felt lost! I am a HUGE fan of Keyes' books since Time Served, and I've loved her books since that one. Team Player came out at a good time for me honest - I was in such a reading slump, and this book pulled me right out. I LOVED the book. I'm not a huge baseball fan, but this is the type of book that would make you want to be a fan. Tyler Ashe is all kiiiiiinds of swoony, but adorable too. He's hot but also occasionally a little nervous around Gwen which is adorable. Gwen is a hard-worker and very smart especially when it comes to the Thrashers, and she knows better than to dally with one of the players. But she and Ty have this instant connection that Keyes writes so well. Ty and Gwen's chemistry just clicks, and it gets better and better as the story progresses. I love how their relationship grew, how the tension built, and I especially love the forbidden romance aspect.This book is fun, sweet, scorching, and it has a lovely HEA. Regardless of if you're a baseball fan, or even a sports romance fan, you should pick up Team Player! I can't wait for the next book in this series. Trust me, you'll fall in love with the entire team by the end of the book, and you'll be wanting more too!
Was this review helpful? Please let me know in the comments section!