Seeker by Veronica Rossi
Book Two of the Riders series
Publication Date: May 16, 2017
Source: Review copy sent by the publisher
Summary (from Goodreads):
New York Times and USA Today bestselling author Veronica Rossi's new fantasy adventure in the Riders series—Seeker .
When Daryn claimed she was seeing visions during her sophomore year of high school, no one believed the truth. She wasn't losing her mind, she was gaining the Sight the ability to see the future. If she just paid attention to the visions, they'd provide her with clues and show her how she could help people. Really help them. Daryn embraced her role as a Seeker. The work she did was important. She saved lives.
Sebastian was her first and worst mistake.
Since the moment she inadvertently sealed him in a dark dimension with Samrael the last surviving demon in the Kindred guilt has plagued her. Daryn knows Sebastian is alive and waiting for help. It's up to her to rescue him. But now that she needs the Sight more than ever to guide her, the visions have stopped.
Daryn must rely on her instincts, her intelligence, and on blind faith to lead the riders who are counting on her in search of Sebastian. As they delve into a shadowy realm where nothing is as it seems and where Samrael is steadily amassing power, Daryn faces the ultimate test. Will she have to become evil to destroy evil? The very fate of humankind rests in the answer.
Last year, I read and absolutely loved Riders. It was a little slow, and it took me a bit to really get into the story, but I ended up loving it. Seeker has been a highly anticipated sequel/conclusion for me, and I'm so happy that I liked it even more than I liked Riders. This book did not disappoint!
Seeker picks up months after Riders finishes (I think? I can't remember exactly where Riders finishes). Eight months has passed since Bas was taken, Gideon's hand was cut off by Samreal, the epic showdown went down, and Daryn disappeared. But Gideon never stopped looking for Daryn, or Bas, and he and the Rangers find Daryn. With or without help, Gideon, Daryn, Marcus, and Jode are going into the Rift and finding Bas. But finding Bas and bringing him back are two very different tasks, and with Samrael looking for something from Daryn, nothing goes as planned. Bringing Bas home has never been easy, but Gideon and Daryn find out just how far they'll go to find Bas.
One of the best things about this book is that the pacing is faster than the pacing of Riders. I will be the first to say that Riders has a slow start, nearly to the middle of the book. But Seeker starts off quickly and really takes off. Gideon and the gang catch up with Daryn and everything starts rolling. I appreciated the change of pace, and the amount of action this plot had.
I didn't remember a lot of specific details about the ending of Riders, but I remembered Bas's disappearance, and Gideon's hand. I sort of forgot about Daryn, and so when I started reading this book and realized that she had run from Gideon and the others, I was surprised! But things started to make sense fairly quickly. That's another good thing about this book - Rossie brings you up to speed effectively, so even if you're like me and don't remember everything from the previous book's ending, you won't be lost!
Daryn has felt extremely guilty, about Bas's disappearance and Gideon's loss of hand. She blames herself and this is why she ran from them and has been in Wyoming for eight months. But when they catch up with her, she realizes that she has to stop running and she has to actually start trying to do something to save Bas. She and Gideon have a strained relationship, but that's mostly her fault. It was good to see her work out what she wanted with Gideon and how she began making conscious decisions to trust him with her past and her fears.
Gideon! Book boyfriend for life. Seriously, he is so great and definitely my type. He's one of the tall, strong, warrior types, but he is also confident and commanding, a born leader. According to Daryn, he has "bearing", which is very true. He is very clever and perceptive, and he is fiercely loyal and protective. Even when he is angry with Daryn, he is caring and attentive. I actually love his temper - temperamental boys seem to be my thing. Gideon is actually sort of an easygoing temperamental guy, which is an oxymoron, but roll with it.
I adored Jode in this book! I can't remember specifically how I felt about him in Riders, but I liked his humor and his tenacity in this book. Marcus is a quietly deadly guy that I adored as well. The camaraderie between Gideon, Jode, and Marcus is so endearing. I love how solid their friendship is. Even Daryn's relationship with the guys as a whole is so solid and fun to watch.
That's a big part of this book - friendship, and brotherhood. As important as I think friendships are, I think the brotherhood type of friendship is even more important.
The romance was sweet with just a little angst in the beginning. Daryn is ashamed and guilty (because she blames herself for the loss of Gideon's hand). Meanwhile, Gideon thinks that Daryn thinks his prosthetic hand is disgusting and shameful and that she regrets her feelings for him. The two of them skirt around each other, but then they hash things out and the romance is incredibly strong from that point (around one-fourth into the book). Lots of sparks fly between Gideon and Daryn! They're a combustible - and adorable - couple.
I loved the Four Horsemen aspects of the book - the horses, the boys in their armor and weapons, how obvious it is that they embody their title (War, Conquest, Famine, Death). This aspect isn't as big in this book as it was in Riders, but it is still the backbone of this story.
I don't want to say too much about the journey - finding Bas, confronting Samrael, navigating the nightmarish Rift - but it's very intriguing and a little spooky sometimes. Rossi has you questioning everything that you read: was that real? Was it an illusion? And so on. The stakes get really high at the climax, and it seemed clear that something bad would have to give.
The ending is a very good one! Almost a little too good, in terms of Samrael (I didn't really buy that aspect of the ending at all - too neat), but in general, it was a good ending. I will tell you that several characters got a nice (but open-ended!) HEA. Which is good! I liked the ending a lot.
Like I said above, I didn't totally love the aspect of the ending involving Samrael. It seemed too deus-ex-machina-like, and convenient. I wasn't really buying it, you know? Obviously you'd have to read the book to know what I mean. This one aspect was the only thing that really stuck out to me, in this book! That's always a good sign.
I recommend this sequel, especially since it's book two of a duology! It is an even better follow-up than its predecessor, and it will leave you content. I recommend the series in general! A fictional take on the Four Horsemen? Good stuff!
4 stars. I loved this book! I think I loved Gideon the most (he is definitely on my book boyfriends list!), but this whole book was pretty great. I highly recommend any of Rossi's YA books - she is a very talented storyteller. I can't wait to see what she has in store for us next!
Was this review helpful? Please let me know in the comments section!
The Giveaway: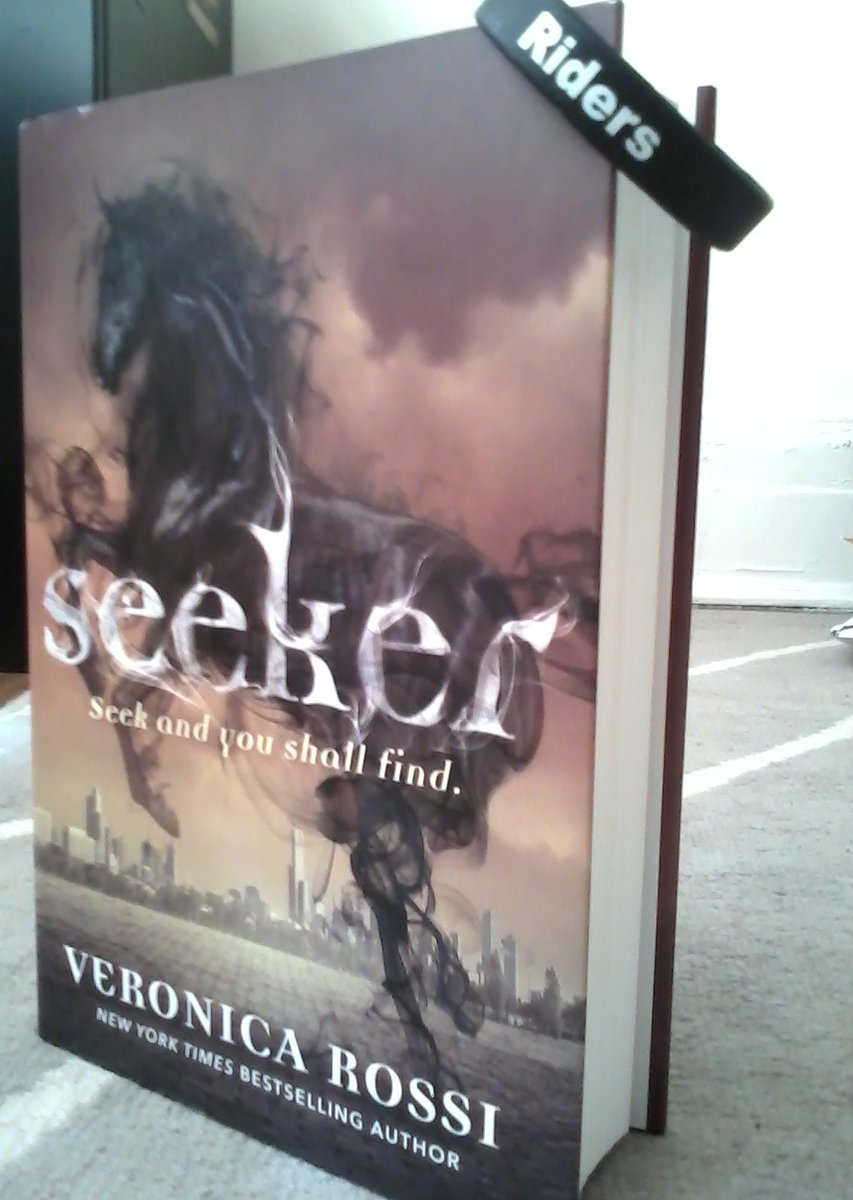 Want to win a hardcover copy of Seeker, and a Riders bracelet? This giveaway is open to USA/CAN residents, and it ends on May 25th, 11:59 PM EST. Good luck!